TOKYO - A child-shaped humanoid robot that can recognize about 10,000 words and work as a house sitter will go on sale in Japan in September.

The "Wakamaru" robot can recognize the faces of up to 10 people and talk to them. When linked to mobile phones, it can also work as a monitor to check situations at home, such as a burglary or someone falling ill, Mitsubishi-Heavy Industries Ltd. said in a statement Monday.
I've covered this before,
HERE
. I'm just going to remind everyone that our planet is destined to be conquered by robots, aliens, or apes. It might even be robot apes from outer space. That's actually pretty sweet. Fuck you guys, when the hairy mechanized intergalactic death bringers come, I'm jumping on their side. I want to try alien drugs.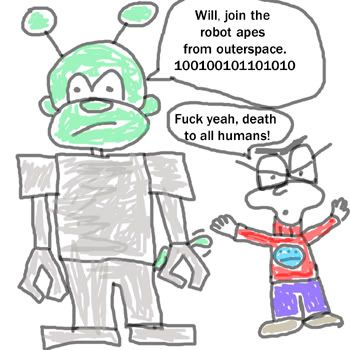 But until then, fuck robots. Don't let this happen to you.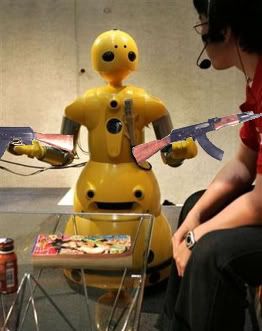 "AK-47 is the tool
Don't make me act the motherfuckin fool."
-Ice Cube