Scientists in Taiwan say they have bred three pigs that "glow in the dark".

They claim that while other researchers have bred partly fluorescent pigs, theirs are the only pigs in the world which are green through and through.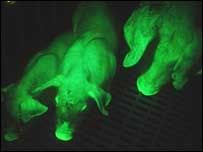 I think it's quite appropriate for us to see just how far we haven't gotten since the death of Martin Luther King around MLK day. Evil people are trying to create menthol flavored pork in a plan to increase heart disease in black men. My brothers, just say "no" to green pork.
This can be hard. I too know the temptation of the snouted variety. There were many nights where I shook in a cold sweat in my bed with visions of pigs having sex in a frying pan. That was when I decided that I needed to go to therapy again. It's been a week. I've had no bacon. If I can do it, the black males of the United States can do it. Though, I know how to be quiet during a movie and they don't.
Fight the power. Say "no" to menthol flavored pork. One love.
Thanks to
R.U. Serious
for sending me that story.