I've warned you people for years. Everyone thought I was insane. Well, fuck all of you. Dick Cheney hunts people.

CORPUS CHRISTI, Texas - Vice President Dick Cheney accidentally shot and wounded a companion during a weekend quail hunting trip in Texas, spraying the fellow hunter in the face and chest with shotgun pellets.
I suppose some anti-gun nut could use this as an argument for gun control. I think this is the first time I have ever been proud of anybody involved with the Bush regime.
It's refreshing to know that we have a vice president that wouldn't hesitate to put a cap in an ass. Saddam was a total pussy. He went with his American captors without a fight. If Cheney was being captured by some communist commandos, he wouldn't vagina it up like Saddam. He'd do a rail of coke, grab a shot gun, and Tony Montana it up.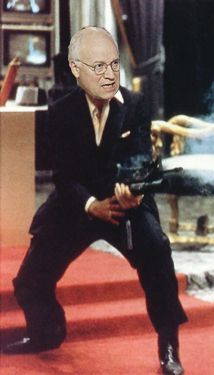 I realize that my admiration for the violent tendencies of our vice president is a little silly. We must accept and respect the fact that Dick Cheney's thirst for human souls can not be quenched. He will kill.
Do you know where your children are right now?
You better pray to whatever god you make your checks to that your snot nosed kids are safe in their beds. Dick Cheney is the new boogy man. Only this one is for real.
How to survive a Dick Cheney Encounter.
1.

You must remain calm. Seeing Dick Cheney is a truly frightening experience but you must be careful that you don't have any sudden movements. You could startle the vice president and he could us his mighty jaw to snap your neck.



2.

Calm Dick Cheney. Let him know that you're not a threat. Back away slowly with your open hands in front of you. Speak to Dick Cheney in a soothing voice. Dick Cheney obviously doesn't understand English so it doesn't matter what you say to him. Just say it calmly. I urge you to keep it clean though. Don't run. This could excite Dick Cheney enough for him to chase you. You won't outrun him. Trust me.



3.

If you do run. Throw something to the side while running. This might distract the vice president allowing for your escape. Anything that you might bring on a camping trip (camera, baby, or bottle of gin) might work.

4. Do not climb a tree. Dick Cheney is a very agile climber. He's like Spiderman and Batman's bastard son.



5.

When he does catch you, drop to the ground in the fetal position. Stay silent and don't move. Roll with the movement of Dick Cheney's attacks but keep your hands behind your neck. Maintain fetal position at all cost.



6.

Stay silent and motionless for at least half an hour once Dick Cheney leaves. He will often watch in the distance and return at the first sign of life.



7.

Fighting back is a last option. If you do fight Dick Cheney. Attack his eyes. It's difficult because of his glasses but this is his only weakness. Kicking Dick Cheney in the nuts will only make him angry. You wouldn't like him if he was angry.