In the grand tradition of Christians being fed to lions. A big lion ate some Christian.
KIEV (Reuters) - A man shouting that God would keep him safe was mauled to death by a lioness in Kiev zoo after he crept into the animal's enclosure, a zoo official said on Monday.
It gets better.
"The man shouted 'God will save me, if he exists', lowered himself by a rope into the enclosure, took his shoes off and went up to the lions," the official said.

"A lioness went straight for him, knocked him down and severed his carotid artery."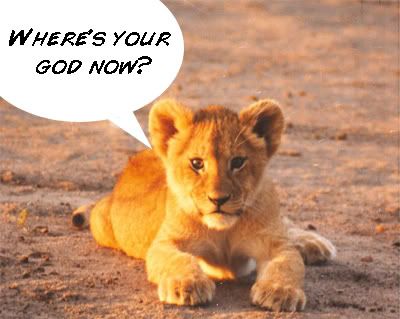 This is hard for me to understand, I am neither Christian nor European. I am a Muslim in training that's still tackling that whole "God" part. I'm not sure if white people's "god" has lion powers, but I'm fairly certain that the one true God doesn't need some asshole picking fights with lions in his name. Lions are big dumb animals with sharp teeth. I don't think they are aware of a divine presence. They're lions. They only like killing things and doing other various lion activities. Unlike human prison, lions don't find religion in the zoo. They find jerk off Filipino kids throwing rocks at them while calling them funny looking. That's no way for a proud hunter to live.
That wheel chair guy on Oz once said, "to kill is as natural as the need to procreate". If this is true, then the lion only did what the situation called for. It's not like she was going to fuck him. That would just be weird. I'm not even sure lions find Ukrainian people hot.
Enough about the beliefs or disbelief of our maned enemy and her natural instinct. It's time to talk about God.
Does God favor the lion over man? Why didn't God use his God powers to strike down that lion before it could harm him? If God starts showing more love to lions, what will become of us? Will the lion species rise up and enslave humanity like some sort of bizarre Planet of the Apes scenario?
Probably not.
There are two quick answers here,
A) God doesn't exist.
B) God has better things to do than to protect some dildo from getting eaten by a lion.
I've said many times that I'm agnostic. I feel the same way about God that I do about most things in my life, "eh, whatever dude. That shit's probably gay". However, I'm not sure if it's all the books on Islam I'm reading or the fact that I'm super stoned right now, but I'm more inclined to believe option B at present time. That man was insane. God doesn't need that sort of thing. A bored weirdo with a death wish is not a messenger of God. You know, unless I start saying that. I'm the exception that proves the rule.
Coming soon, lion encounter survival guide.